Goren Consulting is a boutique consulting company founded by Shlomi Goren.
The company offers a range of advanced consulting services in fields that are essential to all companies in the Digital era providing professional consulting and guidance, with an expertise in digitalization, ecommerce and business strategy and planning.
We believe that in order to deliver the best service to each company it is necessary to provide a professional solution which combines knowledge and experience at the digital, technical, business and practical level. All of our services integrate the business channel, the technical and practical channel. It's imperative to have a broad perspective and experience in those fields.
We are able to offer the professional expertise required in order to provide consulting at the highest level of complexity and professionalism.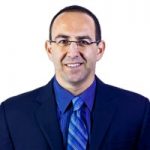 Mr. Goren holds an MBA and professional specializations in the fields of risk management, the Internet and computers. He has 12 years of experience in C-level positions in the start-up and hi-tech industry, during which time three of the companies were sold to an American customer.
In addition, Mr. Goren is a lecturer in the field of entrepreneurship at John Brice College (Tel Aviv, Israel) and also a mentor in TAU, entrepreneurship program in the University of Tel-Aviv (volunteer).